Attributed to different origins, the name Tunis is generally linked to the Berber root which means 'to lay down or encamp', and with the northern reaches of the Sahara desert and the eastern end of the Atlas Mountains contained within its borders, it is little wonder that this North African country has been the desired dwelling place of many.
With a climate much like Malta's and a friendly people to match, Tunisia was a much loved destination by the Maltese and it is this beautiful connection between our two peoples which has led Air Malta to reconnect Malta to North Africa with three direct flights a week – launched on June 26.
This news is sure to be welcomed by many a seasoned tourist who are sure to have missed the opportunity to meander around Tunisia's narrow and picturesque streets and unique heritage sites reflective of the full kaleidoscope of Tunisia's colourful and vibrant past.
Having visited Tunisia only once before almost a decade ago, I was more than a little impressed with everything that the country had to offer and the subtle changes for the better it has undergone since I had last been. Offering five-star, world-class hotels aimed at catering to your every need, my stay at the Hôtel El Mouradi Gammarth was one of the most comfortable and pleasant I have ever enjoyed and left me feeling refreshed and ready for the days' activities.
The Sousse Medina with its uneven floors and secret shops will have you lost in a labyrinth of senses
Starting the trip with a visit to the northern town of Sidi Bou Said, I fell in love with the bright turquoise doors and windows which dotted the stark white houses they seemed to be silently guarding. Renowned for being a town for artists, both French philosopher Michel Foucault as well as writer Andre Gide had homes there and would frequent cafes to discuss their latest works with anyone who would care to listen. Indeed, as I sipped Café des Delices' famous Citronnade Tunisienne (a simultaneously sweet and sour, almost milky-coloured concoction) and enjoyed the view of the Sidi Bou Said port, it was almost as if I had been transported to another time.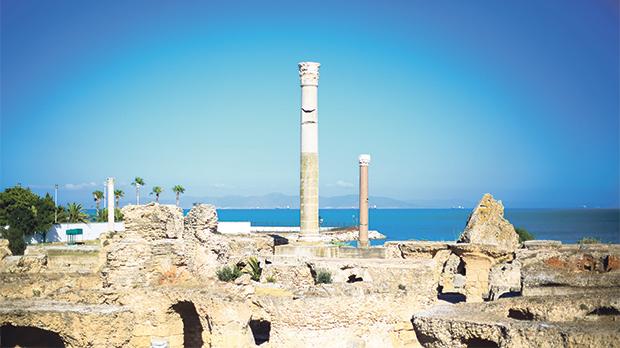 Of course, one cannot claim to have visited Tunisia until they've visited the world heritage site of Carthage. Founded by the Phoenicians, Carthage is not only an extensive archaeological site of great beauty: the area is comprised of Punic, Roman, Vandal, Paleochristian and Arab influences which mesh together in a harmonious manner and remain a stark reminder of the diversity which is intrinsic to Tunisia's fabric.
With its beautiful columns and intricately carved blocks of stone which have stood the test of time, it's little wonder that this structure housed the love of Dido and Aeneas and produced one of the greatest warriors of all time in the form of Hannibal. Equally overwhelming little more than a stone's throw away, one can sit in the belly of the ancient theatre of Carthage and sample the beauty of its shape and acoustics.
Built in the 2nd century and annihilated by the Vandals 300 years later, the theatre remained unused till the end of the 19th century when it was partially restored. Ever since then, it has not only housed dozens of beautiful plays but is also the home of the International Festival of Carthage.
While history buffs will definitely get their fill, Tunisia doesn't skimp on possibilities for downtime and, in fact, Port El Kantaoui has become as renowned as the country's unique heritage thanks to its host of restaurants and little shops where you can find everything from scarves to perfumes. That said, for the ultimate in shopping (and haggling) experiences, there are few places on earth better than the Sousse Medina.
With its narrow streets and shops as colourful as their vendors, shopping really doesn't get more authentic than this. Whether you're after handmade leather sandals that you simply haven't been able to find in local shops, undiluted fragrances which will have you smelling better than an Arab princess or spices by the bag, the Sousse Medina with its uneven floors and secret shops will have you lost in a labyrinth of senses.
Whether visiting Tunisia for work, play or even its inimitable cuisine, Air Malta's re-entry into this North African haven cannot have come at a better and timelier occasion. By connecting the islands to important regions and North Africa, Air Malta has given Maltese people the opportunity to rediscover the breathtaking beauty of a country which is in many ways much like our own.
 Times of Malta