Each year, the State Department issues dozens of advisories with the intent of keeping Americans safe as they travel abroad. What countries are targeted by these advisories, and what risks do Americans face by visiting them? Are State Department advisories effective in keeping American travelers safe?
We decided to investigate what are the most dangerous countries for American to visit as measured by State Department warnings and also by actual deaths. We used data from Priceonomics customer data.world, a platform that ties many different data sets together so it's easy to analyze them.
We found that Mexico, Mali, and Israel have been targeted by the most travel advisories in recent years, but that Americans are more likely to face life-threatening danger in Thailand, Pakistan, and Honduras. Indeed, warnings and deadly violence are uncorrelated on the whole, but in Nigeria, the Philippines, and Egypt, frequent warnings are accompanied by a greater risk of harm. And fortunately, some travelers – at least those headed to the Philippines or Egypt – seem to heed these advisories, as those countries see dropoffs in tourism following warnings.
***
We began by identifying the countries that are most often targeted by U.S. State Department travel advisories. The State Department has multiple mechanisms for advising American travelers, but we focused just on Travel Warnings, which are issued when lasting turmoil in a country poses such a danger that the State Department discourages any travel there at all. 
We filtered out warnings that had been issued for natural disasters, then ranked countries based on the number of Travel Warnings issued against them in an 8-year period between 2009 and 2017. We display the top 25 below.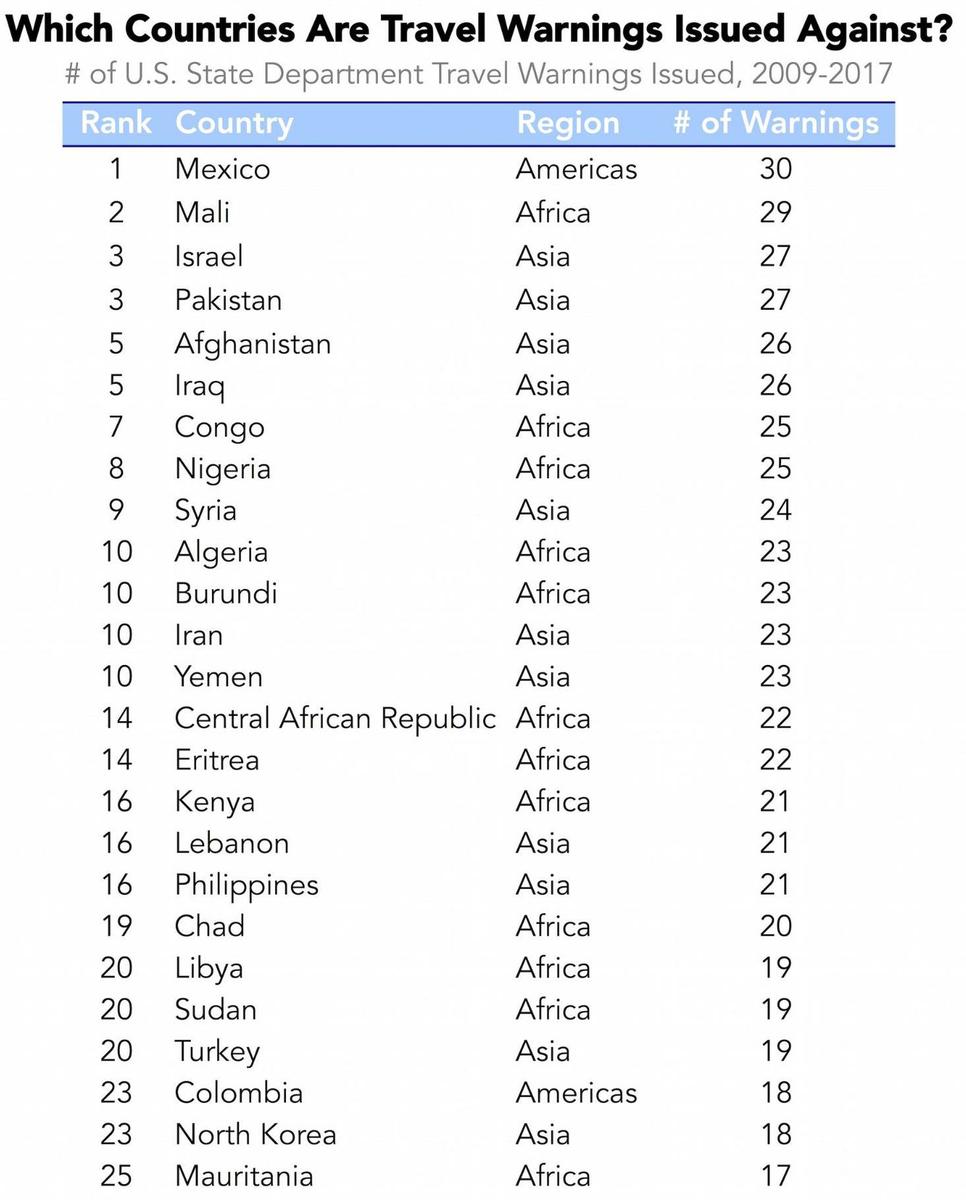 Source: data.world
Mexico tops the list with 30 warnings in an 8-year period. It's worth noting that these warnings are regionally specific, targeting sites where crime syndicates are particularly active. Popular tourist destinations like Mexico City and the Yucatán peninsula (including Cancún) are generally regarded as safe.
Most other countries on this ranking are participants in ongoing international conflicts (e.g., Israel, Pakistan, Afghanistan), or are sites in which extremist groups regularly carry out terrorist attacks (e.g., Mali, Nigeria, Syria).
North Korea is an interesting exception, as the government itself presents a danger to American travelers. According to the State Department, foreigners are liable to be jailed for unspecified reasons, or for seemingly innocuous infractions like interacting with the locals or taking unauthorized photos. 
How do State Department warnings square with the actual likelihood of crime abroad? Reliable, global data on crime is difficult to come by, but the State Department tracks the incidence and causes of American deaths abroad. We used that dataset to identify countries where Americans are most likely to experience life-threatening danger while traveling.
In the table below, we rank the foreign countries in which the most Americans were killed between 2009 and 2013. Before ranking, we filtered the data to include only homicides, executions, deaths in terrorist attacks, and drug-related deaths. 
Priceonomics